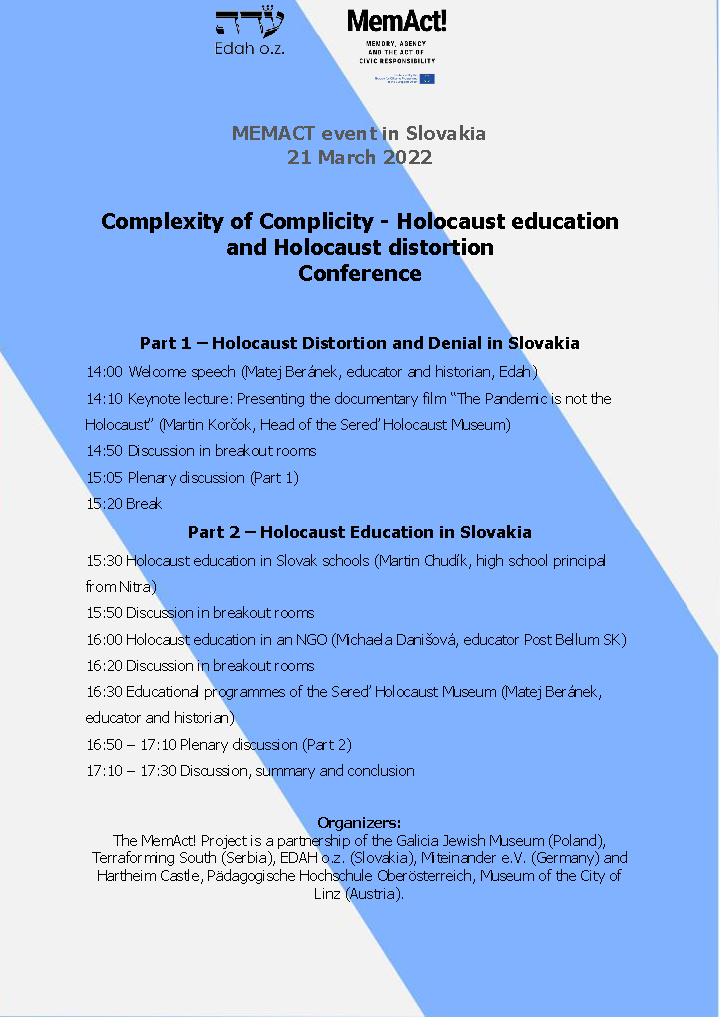 You can download the CONFERENCE PROGRAM here!
The main presentation will be by Martin Korčok, who is the head of the Sereď Holocaust Museum and whose work primarily deals with research involving Holocaust survivors. He has produced 44 films with survivors, has published supporting educational materials about the Holocaust for secondary schools, and has organized training programs for teachers and students at home and abroad. His presentation will focus on various conspiracy theories, fake news, and hoaxes that compare the pandemic with the Holocaust. He will also describe the reasons that led him to produce the documentary film entitled The Pandemic IS NOT the Holocaust.
Holocaust education in school will be the subject of a presentation by Martin Chudík, the principal of the Párovska 1 high school in Nitra. He has devoted himself to this issue for many years, and has attended several seminars on this subject. He included subjects involving Holocaust studies in his school's curriculum, which students can then choose as optional classes. These Holocaust studies were created with the assistance of the Sereď Holocaust Museum.
The Post Bellum SK NGO is primarily active in the area of documentation and education. They also provide various educational programmes and materials focused on education in the area of the Holocaust and twentieth-century history. Michaela Danišová conducts workshops for Post Bellum SK.
The Sereď Holocaust Museum has always been active in the area of Holocaust education. At the museum, Matej Beránek engages in Holocaust research in a national and European context and is also responsible for education at the museum. In his presentation he will talk about the museum's educational programmes, whose chief aims are to prevent all forms of anti-Semitism, racism, and xenophobia.